Degree of Honor Protective Association began in 1873 as a grassroots organization. The members were wives, daughters and mothers of men who worked for the railroad, requiring them to be away much of the time. The group was a source of friendship and mutual help for the women. In the early days, if a spouse died, the women collected money to help the widow's family. "Insurance with a Heart" was born. To learn more about Degree of Honor's history, visit our Online Museum.
---
Current Stats
Insurance In Force:
$569,635,000
Total benefits paid since 1886:
$483,432,742
2015 fundraising totals:
$207,500
Mission
We support our members, their families, and their communities by providing financial security and inspiring service.
Financial Stability
Wise oversight and conservative investment philosophies serve us well. Degree of Honor remains financially strong together, and this financial strength allows us to offer competitively priced insurance products for your financial protection.
Board of Directors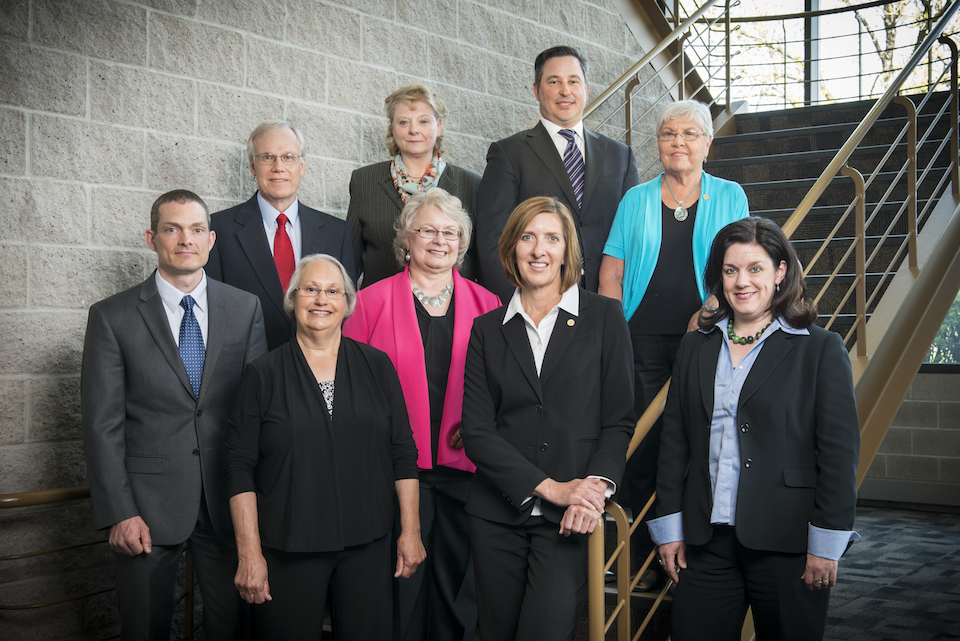 From left to right: Jeff Little, Dennis Peterson (Chairman), Gloria Collett, Laureen Jansky, Kris Hamann, Lisa Flanary (CEO), Paul Dominski, Sylvia Soeth, Kari Niedfeldt-Thomas
Shared Values
Four core values—Christian faith, family, country and community— unite our leadership, the home office staff, and members across the country. When applying for insurance or enrolling as a social member, everyone signs a commitment to our Common Bond.
Service to Your Community
Everyone has causes that are especially meaningful to them, and every community has unique needs. If a member is interested in getting together with likeminded people for fellowship and community service, joining or starting a Degree of Honor service club can be the answer. The home office is happy to provide support and information.
In addition, Degree of Honor members across the country vote on national charities that members can support locally. The Salvation Army and Ronald McDonald House Charities are our current national charities.
Common Bond
We set for ourselves high standards of morality, ethics and patriotism.
I hereby affirm my belief in:
1. Christian beliefs and values and demonstration of high moral character.
2. The protection and support of family members and their dependents through fraternal insurance products.
3. Promotion of the family unit and the seeking of ways to strengthen it.
4. Assistance to members, their dependents and others in times of adversity.
5. The desire to help others in need through community service and adherence to the principals of volunteerism.
6. Maintenance of a representative form of government by providing members with the opportunity to become involved in structured events, club meetings and programs.
7. Respect for and allegiance to the United States of America and its flag by promoting patriotism.
8. Adherence to the Golden Rule "Do unto others as you would have them do unto you."